Glaucoma New Zealand (GNZ) is raising awareness of glaucoma's impact on mental health in the lead up to Mental Health Awareness Week, from 26 September to 2 October.
News
Editor's Choice
The common use of oral antibiotics in the management of meibomian gland dysfunction (MGD) is an extension of the traditional dermatological approach to...
Our ocular healthcare system is failing to adequately serve Māori, write Isaac Samuels and Julie Pirere.
For many independent optometrists, branding is the bane of their existence (perhaps one of many!). Defining who you are as a business, then successfully...
Features
Dry eye disease (DED) occurs more frequently in women than in men and it's recognised that hormones play an important role in the health and preservation...
Computer use is ubiquitous in contemporary society. Up to 69% of computer users report eye strain1,2, sometimes referred to as 'computer vision syndrome'...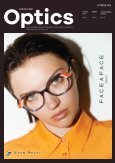 Oct 2022
If you are a current valid subscriber, please click
here
to read the latest Oct 2022 issue of
NZ Optics