A simplified version of a treatment pioneered in India to treat limbal stem cell deficiency (LSCD) has demonstrated comparable efficacy to its predecessor but at just 10% of the cost, according to a paper published in the British Journal of Ophthalmology.
News
Editor's Choice
Features
All practices should have a business plan, which for small or medium-sized practices could be as simple as a one-page document. A larger and more complex...
A healthy 40-year-old male presented with a one-week history of blurred central vision in his right eye. He had no medical history of note. His left eye...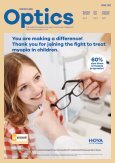 June 2021
If you are a current valid subscriber, please click
here
to read the latest June 2021 issue of
NZ Optics