Although smaller in scale this year, Mido 2022 did not disappoint, writes Siu-Yin Shing. Excited to attend optical fairs once again, Siu' uncovers Mido 2022 highlights and new trends all angles, eco heroes and leaner acetates... 
News
Editor's Choice
I remember when I first looked through a kaleidoscope; it was a magical thing that you pointed towards the light, rotated the end piece and all the shapes...
Have you ever asked yourself if your practice feels safe and welcoming for people from rainbow communities? If you are asking yourself why that would even...
Patients not showing up to their scheduled appointments is a significant issue, estimated to cost the New Zealand healthcare system $29 million each year
Features
The world of ocular surface health has lately sprawled, owing to a rapid, radical revolution in understanding and practice. How did we get there as a field...
The final Ocular Therapeutics Evening (OTE) of the University of Auckland's Buchanan Ocular Therapeutics Unit (BOTU) series was held online and focused...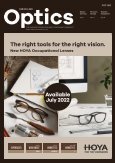 July 2022
If you are a current valid subscriber, please click
here
to read the latest July 2022 issue of
NZ Optics