When you think of an optical store, what immediately springs to mind? Do you imagine mirrors and racks of glasses with a very serious, medical vibe? Around the world, many optical stores have diversified into different products and services, their owners thinking outside the box to give customers a reason, other than eye checks and eyewear, to come back time and time again
News
Editor's Choice
Recent literature has increasingly reported on a clinical entity found in the fellow eyes of patients undergoing treatment for unilateral exudative neovascular...
A common incidental clinical finding among optometrists is 'narrow angles'. That worryingly thin black space on Van Herick assessment alerts us to dust...
I am sure that it doesn't feel that long ago when, as affiliated health providers, you were consumed with the introduction of vaccination mandates.
Features
As a medical student in Oxford, UK, in the 1990s, I was fortunate enough to be lectured by the late Dr David Sackett, considered one of the pioneers of...
Despite attempts since the early 1800s, success in corneal transplantation remained elusive until thebeginning of the 20th century. Indeed, corneal transplantation...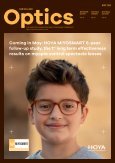 May 2022
If you are a current valid subscriber, please click
here
to read the latest May 2022 issue of
NZ Optics