Late nights, early mornings, a cocktail here or there… it's a lifestyle to be envied, but Professor Jennifer Craig asks if it comes at a price in terms of our health and, specifically, our ocular surface health?
News
Editor's Choice
Features
As a kid, events before you were born, even just one or two decades earlier, lie in an unimaginably distant past. For me, the Second World War was that...
I was privileged to attend the 38th ANZ Cornea Society and Eye Bank Meeting in Perth, the first in-person meeting since 2020, together with New Zealand's...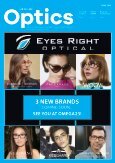 June 2023
If you are a current valid subscriber, please click
here
to read the latest June 2023 issue of
NZ Optics