The Association of Dispensing Opticians New Zealand (ADONZ) annual conference and 70th birthday bash delivered on all fronts: learning in spades, networking opportunities, a busy trade floor and lots of fun!
News
Editor's Choice
Telemedicine in oculoplastic and adnexal surgery: clinicians' perspectives in the UK
Toxoplasma retinochoroiditis is a vision-threatening disease and a major cause of posterior uveitis worldwide. It is a protozoan parasite infection of...
After almost three years of Covid restrictions on international travel, it was such a pleasure to join thousands of in-person attendees at the San Diego...
Features
An 82-year-old male patient was referred to the neuro-ophthalmology clinic with a history of decreased vision in the lower half of the left eye (LE) for...
After three long years since the last face-to-face RANZCO meeting in Australia, I was excited to head to the airport, board the plane and join colleagues...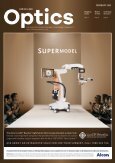 Feb 2023
If you are a current valid subscriber, please click
here
to read the latest Feb 2023 issue of
NZ Optics