Researchers from the Centre for Eye Research Australia and the University of Melbourne have received a funding boost to fast-track the development of their new medical device CorGel, an ultra-thin hydrogel film used to insert donor corneal tissue into a patient's eye to restore vision.
News
Editor's Choice
Ingenious adaptation came to our neighborhood during lockdown number two, on a footpath, beneath the pretty trees.
During this current Covid-19 pandemic-restricted world, there has been some amazing, live, online ophthalmology content produced, and I'm still very much...
I am asked 'how do I create results with LinkedIn' so often that I have developed a list of key steps to introduce this powerful business development method.
Features
Being a keen hobbyist, I came across a situation that required some work to be completed above my head. I needed to connect and install 12-volt electrical...
Ophthalmologists in New Zealand and Australia are the first in the world to be given access to Alcon's new Clareon toric intraocular lens (IOL) and Auckland-based...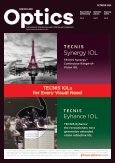 Oct 2020
If you are a current valid subscriber, please click
here
to read the latest Oct 2020 issue of
NZ Optics