US researchers treated mice with synthetic retinoids, partially restoring visually responsive neurons in the primary visual cortex, indicating the adult brain has the potential to recover from inherited blindness.
News
Editor's Choice
Features
Live from Specsavers headquarters in Port Douglas, Melbourne, SCC 2022 focused on the frontiers between optometry and ophthalmology and how a collaborative...
UK independent optometrist Simon Berry is on a sustainability crusade. After years of research, he decided to share practical ways for DOs and optoms to...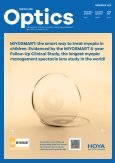 Nov 2022
If you are a current valid subscriber, please click
here
to read the latest Nov 2022 issue of
NZ Optics