Autonomous sensory meridian response is thought to be experienced by around 58% of the population. It's a physical response to visual and auditory stimuli, often described as 'tingles', usually in the back of the scalp and spine, and likened to "low-grade euphoria". Within this niche, role-play appointments with 'optometrists' are enjoying a moment within the ASMR community with the top five YouTube videos tagged 'ASMR optometrist' having a combined view count of 11.7 million.
News
Editor's Choice
Features
Recently MyHealth1st ran the first of its free masterclass webinars, designed to help healthcare practitioners grow and thrive in the post-Covid world....
February 2020 saw the first cases of Covid-19 appear in New Zealand. Over the following weeks borders were gradually closed and, as we know, New Zealand...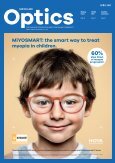 April 2021
If you are a current valid subscriber, please click
here
to read the latest April 2021 issue of
NZ Optics