Hamilton-based ophthalmologist and Auckland University senior lecturer Dr James McKelvie is leading the charge, together with several of his ophthalmology colleagues, to combat the postcode disparity for cataract surgery and obtain better eye care for all in New Zealand. With RANZCO's backing, ophthalmologists are calling for a nationwide threshold for cataract surgery, but this is just a small part of what needs to happen to really begin to combat preventable blindness in New Zealand, said Dr McKelvie.
News
Editor's Choice
Features
The rise of webinars in our post-Covid-19 world has opened up avenues of education extending beyond borders and time zones. Hence a 7pm kick-off in Sydney...
Well-known ophthalmologist and New Zealand refractive surgery pioneer Dr Tony Morris was remembered by family, friends and colleagues at a memorial service...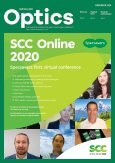 Nov 2020
If you are a current valid subscriber, please click
here
to read the latest Nov 2020 issue of
NZ Optics