Over the years I've found that writing about the informal aspects of being a part- or full-time 'Blindy' is an odd way to pass the time. It often presents 'challenges' (what we used to call 'problems')...
News
Editor's Choice
Features
Rather than bemoan the cancellation of in-person meetings due to the Covid-19 pandemic, the World Society of Paediatric Ophthalmology and Strabismus (WSPOS)...
Maarten Weidema says he feels like he's seen it all before; that might be because he has. But this isn't a bad thing. "Corona was a period of crisis and...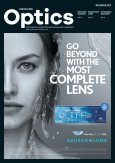 Dec 2021
If you are a current valid subscriber, please click
here
to read the latest Dec 2021 issue of
NZ Optics