Central serous chorioretinopathy (CSCR) is the fourth most common retinal disease. But unlike other common retinal diseases, CSCR commonly affects working-age people and can result in significant morbidity. Although many cases of CSCR resolve spontaneously, persistent subretinal fluid in CSCR beyond three months can result in vision loss in a third of patients... Here I present some CSCR cases to illustrate how this condition can be safely and successfully treated.
News
Editor's Choice
Features
All practices should have a business plan, which for small or medium-sized practices could be as simple as a one-page document. A larger and more complex...
A healthy 40-year-old male presented with a one-week history of blurred central vision in his right eye. He had no medical history of note. His left eye...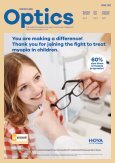 June 2021
If you are a current valid subscriber, please click
here
to read the latest June 2021 issue of
NZ Optics